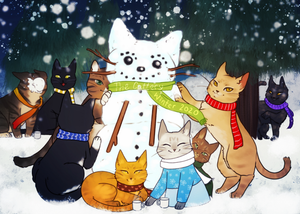 2020 Winter Art Print
The gang is all together in this print making the most adorable snow cat! This print features Cecily, Chester, Paulie, Jupiter, Jeepers, Chad, Valencia, and Abby.

Our quarterly limited edition art prints of Princess Cecily and friends are sure to dazzle and delight.  They all have such cute detail, that purrfectly represents their real life counterparts! 

5"x7" Art Print
*You can get these limited edition art prints sent to you automatically if you join our Patreon at the $5/mo tier!  Patreon is a monthly giving platform gives the Patron (you) perks based on your donation amount.  Follow the link to learn more!  http://www.patreon.com/thecatterycc