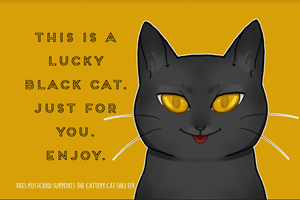 Chester Lucky Black Cat Postcard - with stamp
Everyone needs some luck in their life.  And a black cat.  You can send your friends both with this adorable Chester postcard! 

Comes already stamped, so all you have to do is fill it out and mail - we did the leg work for you!
Check out our other postcards as well ~ Get lots of them and become that friends that makes the other friends smile.  You'll be the favorite, for sure!
4"x6" postcard